3 Educational Roofing Case Studies
Case Studies? For Roofing? No way…
Yes, way!
We believe case studies to be a valuable educational tool in the roofing industry.
We've come across thousands of cases in our 33 years of business.
Our intention through our commercial & residential case studies is to further educate you, as a roof owner, to make educated and effective roof-related decisions, now and into the future.
Simply, we highlight each project's problem, solution, and results so you can get the gist in the most digestible way!
We've repeatedly heard, "I wish I would have found your company first," or "I wish I would have known this much about the roofing process before moving forward with the other roofing contractor."
We invite you to read along our great case studies to see our unique approach in the roofing industry and how that can add value to you as a homeowner.
We would be delighted for the opportunity to educate you further and help you out with your project!
No two roofing situations are created equal.
In roofing, a variety of variables can come together to create rather complex situations such as:
Whether your insurance company will pay to repair or replace your roof.
What products you can and cannot put in your home based on its architectural style & strength.
The aesthetic look you desire to achieve, and the functionality you wish to receive from your roof system.
We are experts at generating solutions for complex roofing projects, and our general contracting capability gives you the ability to have a one-stop shop when it comes to restoring or renovating your home or building.
Without further ado, scroll along until you find a case that catches your attention.
You'll notice many of these cases touch on insurance claim adjustments we've educated customers to receive.
These adjustments have significantly boosted the value they could reinvest into their home or property.
We also have a sister company we work with called Roof Consulting Network, that can provide even more expertise with insurance claim negotiations.
As roofing contractors- we are limited to what we can say and we are not allowed to directly negotiate with your insurance carrier.
Appraisal Helps Country Club Go from 176k claim to 387k for roof replacement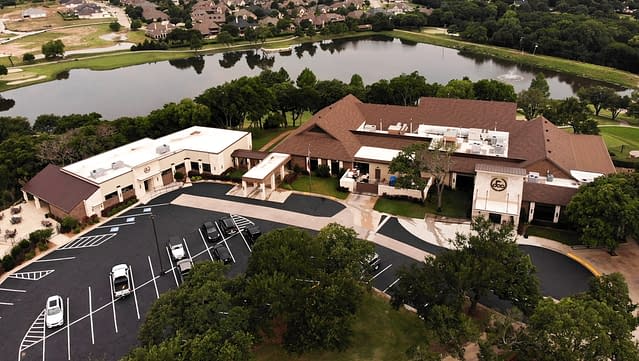 Applications: Composition Shingles, TPO, Standing Seam Metal
Products: GAF Timberline HD, GAF Everguard 60 Mil. TPO, 24 Ga. Steel (Cee-lock)
Size: 262 Squares
Initial problem
A large hail storm in Argyle, Texas, left this country club with hail damage to all their roof systems- standing seam metal, composition shingles, and modified bitumen flat. After the initial inspection, the Insurance provider was woefully under the proper claim amount at $176,501. There were attempted discussions with Insurance and the customer, but the Insurance refused to change their claim amount. The country club was in dire need of a roofing contractor that could navigate the complexity of their reroofing project.
Our Solution
We introduced the country club's board of directors and management to the appraisal process and arranged for an introduction to a trusted appraiser. As they commonly do, the insurance provider slowed the process by dragging their feet and taking advantage of all the time allowed under Texas law. Meanwhile, JHR and our customer worked with the appraiser to detail the proper scope of work and make the property whole. 
Results
Thanks to the Country Club's trust in the process, their efforts with the appraiser granted them the money they were rightfully owed to reroof their asset effectively. The claim award of $387,203 allowed for the adequate replacement of the damaged shingles, modified bitumen, and standing seam metal roofs. The funds received additionally allowed the club opportunity for roof upgrades and additional work on the exterior & interior of the building. We left the customer satisfied, and their facility looks spectacular- with highly functioning roof systems in tip-top shape.
73% Increase In Claim Award Yields Metal Roof Upgrades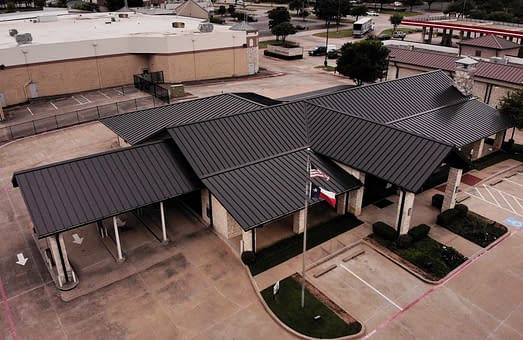 Applications: Standing Seam Metal
Manufacturer: Berridge
Products: 24 Gauge Standing Seam Metal Panel
Size: 132 Squares
Initial problem
This bank in Arlington, TX, came to us with a leaking roof. Upon our inspection, we not only found hail damage, but we also brought to the bank's attention that they had an inferior product that was installed incorrectly from the beginning. We recommended that they to file an insurance claim that came back at $127,658.00 for full replacement- this was not sufficient enough to cover the scope of work the bank needed. We have seen this many times before and we assured the customer we could help them get what they deserved.
Our Solution
After acclimating ourselves with the situation, our first step was to educate the customer so they could be the best advocate for themselves with the claims Adjuster. Knowing the right things to say to a claims adjuster is critical when looking for a fair claim award. Once the customer receives the deserved claim amount, we recommend installing a better material, components, and custom roll forming the material on-site to achieve exquisite functional and aesthetic desires.
Results
Through our assistance, the bank received a final award amount of $221,479.00. The amount they received allowed this bank to upgrade their roof system significantly! The previous roof didn't give off that trustable, commanding look that a bank needs to possess. When you drive by, you go, "wow," that is a beautiful metal roof. The details are sharp, and the components are seamless. This bank will be worry free of leaks and protected by this strong standing seam metal roof for years to come!
Full Roof Restoration for Large Farm & Ranch After Damaging Hail Storm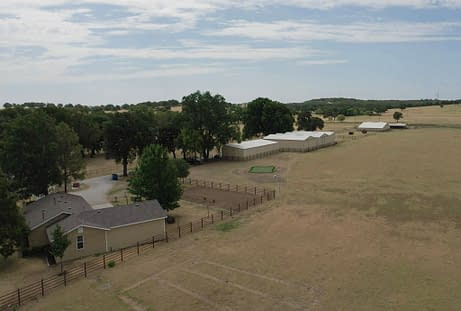 Applications: Composition Shingles, Elastomeric Coating, Metal
Manufacturer: GAF & Everest Systems
Products: GAF Timberline HDZ Weather-wood, Everest Systems Evermetal, Custom Copper Metal
Size: 160 Squares (Shingles) | 241 Squares (Coating)
Initial Problem
This property, located in Westlake, Texas, had significant hail damage to thirteen structures, including the home and all the outbuildings. The original roof replacement estimates the homeowner received from the initial adjuster of $171,225 was far under the value needed to cover the project's scope effectively. Further discussion and demonstration were required to ensure the home and buildings could receive functional roof systems.
Our Solution
To capture the total value replacement cost and to get the roofs back to their full aesthetic and functional quality, the Joe Hall Roofing team walked the property owner, their attorney, and on-site foreman through the steps necessary to maximize their claim. The claim settlement was achieved through direct contractor proof of the damage and precisely detailing the extensive scope required for restoring the property.
Results
After an eight-week process, the property owner received the final award amount of $474,355. The eight damaged structures' with shingles received new asphalt shingle roof systems, and the six metal buildings received the imperative restoration of the metal buildings have the owners' assets back in order and insurable.
We hope these few case studies provided value to you in some way
Whether you gained new insight on the roofing process, learned about a new material, or maybe just saw some inspiring images…
We hope this content will make YOU a better roof owner!
Want More Case Studies?
We invite you to visit our Case Studies Page, where you can browse through 10+ pdf case studies.
Or take a look at some more cases linked below!
Case Study | Iconic Arlington Church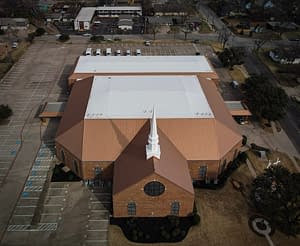 Case Study | Historic Country Club Roof Renovation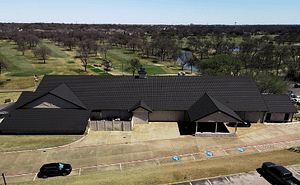 Case Study | Private School Roof Renovation Project